Read Time:
3 Minute, 12 Second
I hope you like plant-based soups! But first…
Let's talk about recipe blogs.
Some people love reading about a person's life and how they arrived at making a certain recipe. That's great for them… but that's not what you'll find here.
To continue being mindful of your time, when I post recipes I'll write a quick blurb about them, what makes them worth your time to try, then the recipe itself. Below the recipe, I'll add some tidbits about nutritional info (not calories, but actually what is in the food that's good for you) and other fun facts about food in general.
I want to help support your healthy and mindful eating habits, so hopefully now you know exactly what to expect. Without further ado…
One of my big goals for this year is to eat vegan, or plant-based, foods as often as possible so that I can pack in as many nutrients as possible into each meal (among other health-related reasons I'll share over time). Then I came across this super simple, quick, and nutritious recipe for the chilly winter nights we still have ahead of us.
So if you feel like enjoying a hearty stew that's packed with nutrients, I hope you give this one a try.
Vegan Chipotle Mexican Stew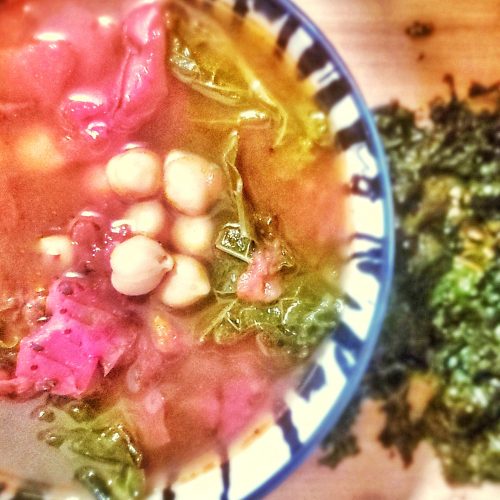 Vegan Chipotle Mexican Stew
A filling, protein-packed stew. If the temperature doesn't warm you up, the spice will!
Ingredients
3

cans

garbanzo beans (or chickpeas)

4

cups

vegetable broth (or 2 vegetable bouillon cubes)

4

cups

water

1

can

diced tomatoes

1

cup

chopped kale

1

7oz can

chipotle peppers in adobo sauce
Instructions
Add all of the ingredients together in a pot

NOTE: For less spice, add less chipotle peppers

Bring water to a boil then simmer for 20-30 minutes
Notes
If you want to add some crunchies to the soup, take some of the chopped kale, toss it with olive oil, salt, and pepper. Then bake at 350 degrees until crispy (about 10 minutes).
Health Benefits
I've long been a fan of using chickpeas/garbanzo beans because they are immediately filling and have enzymes in them that keep you feeling fuller for longer. As a perpetually hungry person, that's great. But they also have loads of other benefits like helping lower cholesterol, and providing nutrients that are difficult to find like selenium. Did I mention they're a great source of plant-based protein, too?
As for the tomatoes, did you know some varieties can have nearly as much vitamin C in them as an orange? That's right; if you're not a fan of citrus, a tomato can help keep the doctor away, too! But they're also really beneficial in fighting certain types of cancer. They have lycopene (what makes the tomatoes red) and beta-carotine (what makes carrots orange), both of which have been shown to fight off prostate cancer.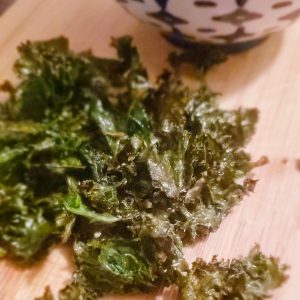 And then there's kale, the jewel of greens. According to Healthline, here's what one cup of kale gives you:
A single cup of raw kale (about 67 grams or 2.4 ounces) contains:

Vitamin A: 206% of the DV (from beta-carotene)
Vitamin K: 684% of the DV
Vitamin C: 134% of the DV
Vitamin B6: 9% of the DV
Manganese: 26% of the DV
Calcium: 9% of the DV
Copper: 10% of the DV
Potassium: 9% of the DV
Magnesium: 6% of the DV
It also contains 3% or more of the DV for vitamin B1 (thiamin), vitamin B2 (riboflavin), vitamin B3 (niacin), iron and phosphorus

This is coming with a total of 33 calories, 6 grams of carbs (2 of which are fiber) and 3 grams of protein.

Kale contains very little fat, but a large portion of the fat in it is an omega-3 fatty acid called alpha linolenic-acid.
I hope you love this as much as I did!